More than once while following the adventures of Sean Conway on the interwebs I was convinced he was outright risking his life. But, as much as that is obviously what an adventurer does, the one moment he really almost came to death was what could have happened to any of us – on his bike, by the side of the road, through a car. (OK, he was on another record attempt, cycling round the world, whilst I am cycling down to the grocer's to buy fruit and milk, but still, the cars are very much the same…)
There are more ways that connect his doings to mine, in fact more than I previously knew. They are current (This very moment Sean camps at Fort Williams, on the banks of Neptune's Staircase, where we had a friendly family camping last summer, whereas he runs from John O'Groats to Lands End to round off his giant triathlon of Britain) and past. You can read about the past in his last book, "Hell and High Water, one man's attempt to swim the length of Britain".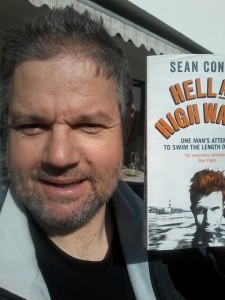 The short news, he succeeded, which effectively made him the first and only man who did swim from Lands End to John O'Groats, clockwise. I guess in Britain he's fairly well known for that now. The somewhat longer story, which makes me recommend to read his book, is one of "if I can do that, so can you": Apparently the odds were against him a lot more than I'd have thought from merely following him on Twitter. Not only had no one done it before, not only were his funds limited, so was also his experience. In fact it would appear he was little more of a swimmer than I am, claiming his last and only experience was from a race he swam when he was fourteen (his overall fitness certainly beat mine, though). It would also appear I knew a lot more about the accompanying logistics, in particular his team boat, a half-a-century old 26′ wooden sloop named "Friday", having been raised on a half-a-century-old 24′ fiber glass sloop named "Diogenes". Were I not a family dad who can't just leave it all behind, I would have offered myself as his skipper when he needed one. Instead, all I did was throw in a measly share in a crowdfunding run. The adventure points all go to him.
And he did need a skipper. It was just one of the things that did not run as expected, things he can talk about openly now that the glamorous end shines over it all. How he never tried a day at sea before the start, so he was surprised at seasickness and made much smaller day's runs, which extended his trip deep into winter. How he almost drowned at Cape Wrath, and totally not drowned at the Sound of Sleat. How he ran out of funds and it was us crowdfunders who helped him get along almost more than his sponsor. And the beautiful things. How people along the way helped him with food, fuel, hands and advice. How a beard helped protect him from jellyfish. How overcoming his fear from swimming at night was rewarded with a phosphorous experience. How a girl never stopped smiling even though she was afraid of the water, for months.
Really, if ever a guy grew over himself and finished the unfinishable, underweight, unshowered, unorganized and very, very unshaven, it's Sean.
And I guess it's never too late to support his charity of choice, War Child.